Continuing from this topic about load times, actually I'm noticing that client load times during development are also a huge time-sink.
I'm wondering if a simple file concat of all the JSX stuff would speed things up?
I have a simple adminUI, but breaking up all the parts into separate React classes, just the client load takes 20s
development: 179 requests / 3.9mb / 20s
production: 5 requests / 589kb / 4s
I can understand how during dev mode all the JS(x) files are separate, but the difference in file size is surprising. minified goes to ~12% (maybe react-runtime-dev and some other packages are stripped out in --production mode). In any case my guess is the latency of all those 100s of requests is more of a killer than the bandwidth to localhost. They seem to also come down sequentially: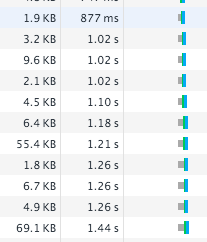 I wonder if it's worth running some other pre-processor to combine all the JSX files into one before meteor build? Has anyone experimented with such an approaches?
Does the new