I'm playing around with Meteor and Flutter.
Watch in this video.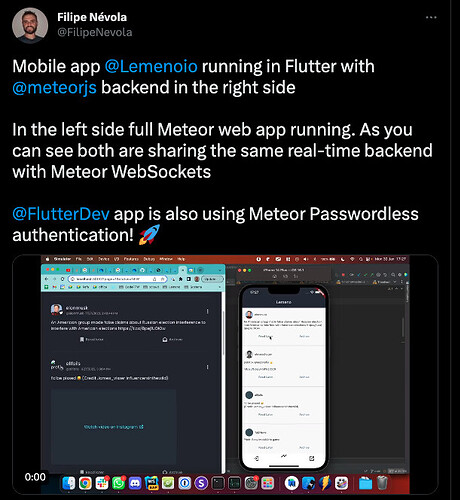 I'm still deciding if we are going to build a full app for Lemeno (Lemeno: The RSS reader for social media) in Flutter but it's nice to use Flutter and Meteor together. The way to declare Widgets is kinda weird, React has a better Component model IMO but I think I can get used to it.
This is the Flutter integration that I'm using dart_meteor | Dart Package, I don't think it is working perfectly (for example it's not restoring the user session automatically AFAIK) but if more people start to use we could improve it together, the maintainer is opened to contributions. It also needs to have a Websocket implementation compatible with Flutter Web.
Anyway, I'm just starting with Flutter.
If you want to know more let me know, so I can create content with Flutter and Meteor for CodeFTW soon.