---
Hi everyone, I just wanted to share my first attempt at Meteor! It's a simple game where you try to match a target random color by moving and scrolling with your mouse. You have 3 attempts, and the faster you are and the closer you get to the target, the more points you earn.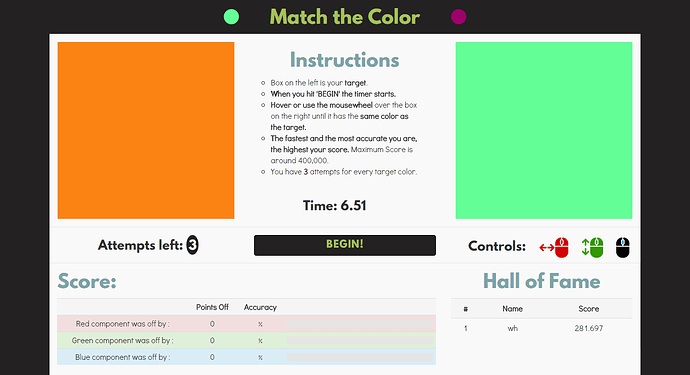 The main Meteor feature I used is the Hall of Fame section, that holds all the highscores. I tend to use extensively jQuery and events on my projects, so I really liked the Meteor templating system. On the other hand, I cannot say that I am particularly enthusiastic about MongoDB, as I had to search and write some confusing code to write some basic queries. Right now, the app works perfectly when using a mouse, but there are some bugs when using a touchpad or on mobile browsers, which I am currently working out.
Anyway, any kind of feeback, like feature recommendations or anything you don't like, are welcome!