I will give as detailed of an explanation as possible…
The directory where the stylesheets are located looks like this:
As is required with the newest version of Meteor, I renamed each file in the sub folders with the .import.less extension.
To import the less files, I added the @import designations to the files at root of the folder. For example, bootstrap.less looks like this:
However, the stylesheets are not importing correctly to client, so I must have done something wrong here. I tried setting the path to an absolute path like /client/stylesheets/less/bootstrap, but it still doesn't render correctly on client.
Not only am I having trouble rendering LESS files, I'm also having trouble rendering some aspects of bootstrap. For example, the file-input class from Bootstrap 3.0 doesn't render at all on my meteor app. The file upload portion looks like plain ugly style-less HTML.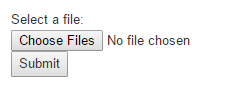 Yes, I have the latest bootstrap and less compiler all installed. Not sure what it is, as I've tried everything I can think of. If someone can point me in the right direction, I would greatly appreciate it.