Is anyone else having problems publishing packages with meteor publish?
For me it just keeps spinning.
Same here. Nothing's happening.
According to this post, you should email contact@meteor.com about infrastructure outages (once it's clear that the problem is not isolated to you).
That email bounces with a message to go to http://meteor.com/contact which doesn't seem to be the place to report problems like these.
It's working again.
needmorechars
Meteor.com/contact is closely monitored, so it's a good place to report anything! It's just better for us to track internally than an email.
Same here. Nothing's happening too
I get the same thing. I think it is breaking atmosphere rankings too.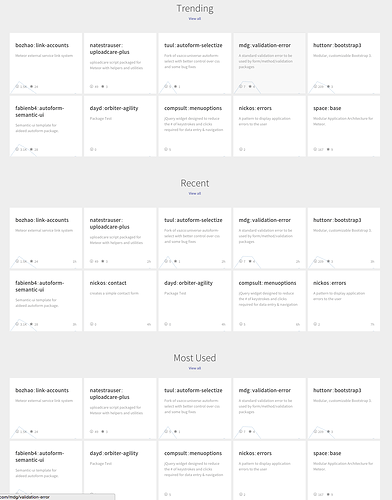 I'm stuck trying to publish my uploadcare-plus package that is somehow at #2 of all three lists (trending / latest / most used).
---
@sashko a 'report a problem' form like paid users get for galaxy support would be really nice for meteor infrastructure - website / install / atmosphere / deploy
The problem is ongoing, though a change we made will hopefully improve the situation noticeably. The real solution will be to move the package server to new/improved infrastructure. This work was already underway, but this situation will increase the urgency. You can follow our progress on the issue at status.meteor.com.
I agree, @natestrauser. I'll bring it up with the team.