I leave this here just for reference and common culture.
I receive this email:
"
Hi Paul,
You are receiving this alert email because connections to your cluster(s) have exceeded 500, and is nearing the connection limit for the M0 cluster Cluster0 in the Project Activitree_Social within Organization Activitree.Please restart your application or login to your Atlas account to see some suggested solutions.
"
This app is under development, 0 logged in users.
The cluster has changed the Primary twice around that time. Changes are seen with vertical orange lines, change-in is a stronger shade than the change-from/leave.
After the first change (3:34PM), the number of connections starts climbing and reaches the top (500). This is a context where real users would have encountered very long queries (possibly). This might be the case even with a single real user.
In the pictures: 00-00, 00-01 and 00-02.
00-02 gives Primary to 00-01 and becomes secondary at 3:34PM. But it behaves as if it is still Primary ?! and starts building connections.
around 5:00PM 00-01 gives back Primary to 00-02.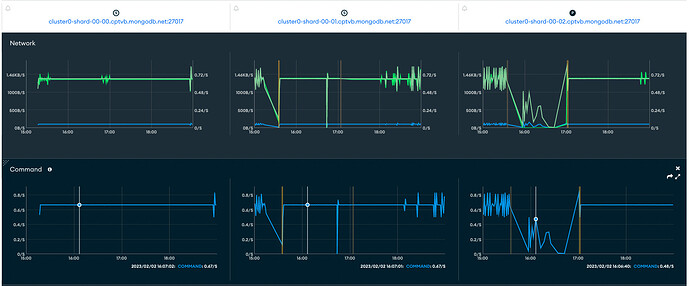 After the second change, connections go back to the default 20. Total time is approximately 1.5 hours.