I've found the document I need by passing the id to find().fetch(), which returns an array (how come I can't use .findOne()?):

This shows up as I would expect when I inspect the props of the specific component: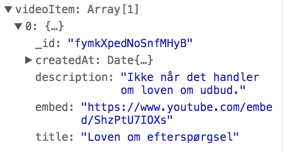 But now I get stuck. Because I can't figure out how to pull the data from props and into the render function of my component. This is a component only showing one video, so I don't want to iterate over the array (containing only one object), which works just fine.
What is the proper way to do this?