Hi. We've had a problem for the past month on our production server and I can't seem to find a solution. I can't even find anyone on this or other forums with a similar issue.
At some point during a cycle (inbetween restarts) the server will start spiking memory. I've found a lot of topics where the memory will just keep climbing until the server halts but ours just has massive spikes up to 400+ mb (the app idles at around 140mb) and then drops again, only to start ascending again right after.
Here's what I have learned/done already:
I've already looked at observers and if they're being deleted correctly. Everything seems fine there as far as I can tell.
The app will even start spiking memory at night when noone is using it (all our users are in the same timezone).
I have 2 publications with a large data set but I've found several people with much larger publications so I doubt they're the problem. One is a regular publication of about 1800 very small documents. The other is a reactive aggregation of about 2300 documents. All other large publications use pagination, they observe a pretty large dataset but only ever send maximum 50 docs to the client at once.
This screenshot shows the spikes during night time.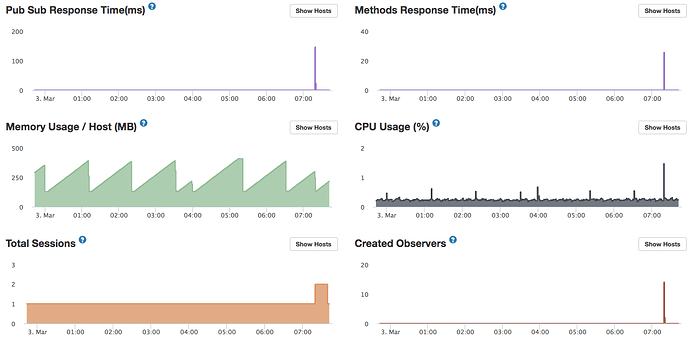 So far the memory spikes have not become a problem yet but I do feel uneasy about them. At the very least I'd like to understand why the server is doing what it's doing and what sets it in motion.
Thanks in advance!