Howdy Meteor Forum peeps, It is time to plan show #5!
Reply below, let us know which topics are the most important to you from the past week(s)!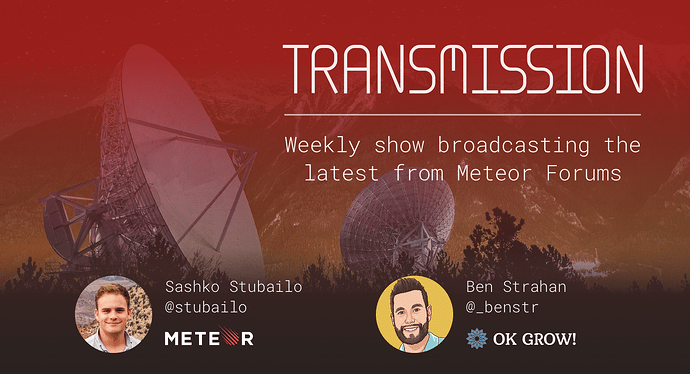 ---
Update
Show #2 is still trickling out… delayed, errr sorry about that. So far #2.1 Reactive GraphQL has been released with #2.2 How Open Source is Meteor Really? and #2.3 Why 1.3 does not use Webpack coming soon.
Thank you for all the positive feedback on the Reactive GraphQL show.
Upcoming Iteration:
The podcast will now be the whole show… no more partial releases.
The videos will be a handful of 5 minute long snippets featuring the best highlights.
We will make a generic (and short) introduction.
---
About TRANSMISSION
TRANSMISSION is a weekly podcast/vlog covering the most important topics to come out of the Meteor Forums. Each week I need your help to pick the most relevant forum posts for @sashko and I to discuss in deeper detail. We will pick 2 of your topics to talk on, Sashko will pick the another two. I will be your investigative journalist and Sashko will be our "inside contact".
It is our hope for this show to becomes a weekly staple for all Meteor developers to get the inside scoop.
Podcast Site: https://transmission.simplecast.fm/
Disclaimer
This show is an independent experiment from @sashko (MDG Core Dev) and myself (OKGrow Dev). The opinions shared will be our own.