Hello everybody,
Long time no see! Hope everyone is doing fine!

We made lots of changes to our codebase in recent months, most of them in regards to performance. We removed many subscriptions, (finally!) implemented Oplog tailing, moved from DigitalOcean to AWS and much more.
We still have a setup with (at the moment) 4 identical meteor app docker containers (behind a traefik load balancer) and 2 identical plain nodejs docker containers running our workers (on a separate AWS server!) doing the heavy lifting.
Our database is not hosted on MongoDB Atlas on M30 instances with the default 3 replica nodes.
We have this use case, where we have to import lots of data into our database. This is done on the workers and most of these updates touch 2 or 3 mongo collections. We are talking spikes of ~5k updates on both collections in a matter of seconds. These loads sometimes are "sustained" (with breaks in between of a couple of seconds) for minutes or sometimes even hours!
During these imports, we see significant CPU spikes on all 4 meteor instances.
But, here is the catch: We do NOT have any subscriptions on these collections anymore!
My questions now are:
Is this expected behaviour?
Is there anything we can do about this to reduce the load on the meteor instances during these updates?
Am I missing something here?
Please see the screenshot attached!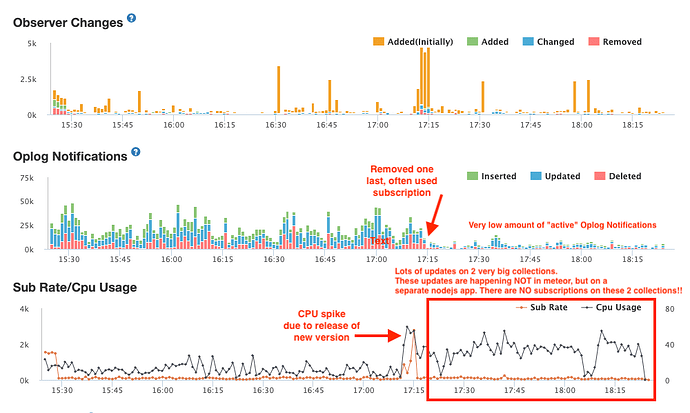 Thank you all, best
Patrick