I'd consider myself quite experienced with Meteor (been working with it full-time for 6 years now), but I just can't figure out why my Galaxy containers regularly come back saying "Container unhealthy". Cranking up to quad or even octa containers (6-10 instances) often won't solve the problem. I usually have to do a fresh deploy for it to go away.
I'm hoping someone can give me pointers for where to look for clues. I know it's rather open-ended and there are many ins-and-outs to someone's codebase, so this is more of a broad "where should I go in my journey to debug the problem?"
Here's what I've been looking at closely over the last 6 months:
APM
I subscribe to Galaxy's APM to monitor everything. Below is a screenshot of a container that was supposedly "unhealthy" - you'll see the CPU was at 37% when the Galaxy report came through.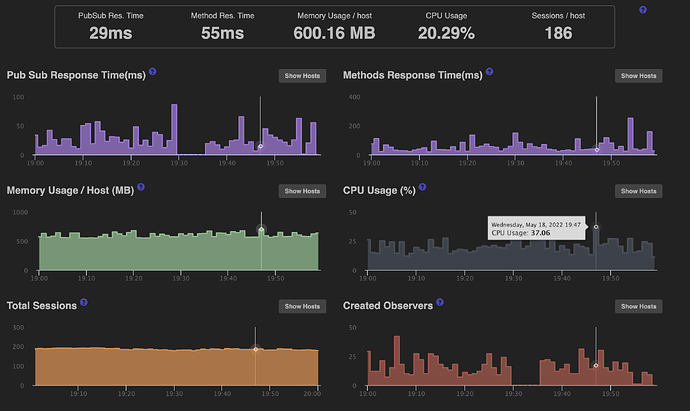 Subscriptions
I've been working hard to remove as many subscriptions as I can and replace them with Methods. I know they're resource hogs, so I've tried to minimize that. I still have a couple though and I'm continuing to explore ways to eliminate them, hoping that they're path to salvation.
Heavy tasks
I've been offloading heavy background tasks to separate cron servers hosted outside Galaxy for years now in an attempt to keep production happy.
Oplog
I can see there's a lot of oplog tailing going on in my app, so I tried Redis Oplog but boy oh boy did that mess a bunch of stuff up. Ended up getting a lot of users complaining about lost reactivity (eg. in chatrooms after going idle for an hour), so went ahead and removed it.
CPU Profiling
I've been using this package to take CPU profiles of unhealthy containers: quave:profile - Packosphere
I can't really identify anything crazy in there, either. I've linked one here for reference. Unfortunately I can't really make heads or tails of it.
Anyone got tips for where I should start digging?