Hi everyone!
Last week we upgraded from v2.5.8 to v2.8.0 on our production instance of https://orderlion.com.
Almost immediately the next day, we had our RAM usage explode, resulting in "JS heap out of memory" another day later and forcing the docker container(s) to restart. (we had about +1GB of RAM usage per container per hour! - totally crazy!)
We did some analysis via V8 heap dumps and also via Monti and found the following clues:
We discovered an extensive amount of ClientSessions and even some circular references which could prevent garbage collection of unused ClientSessions. The amount of ClientSessions and therefore also the allocated memory is growing substantially even after a few hours of being live in production.
Also, for some reason, the new mongo driver allows way more primary connection pools (10 → 100), which could also bump up the RAM usage even more.
---
You can see the crazy RAM usage of 247 MB for the MongoDB client sessions - this is a B2B tool, with a maximum of ~150 users online at the same time, so this sounds very crazy to me?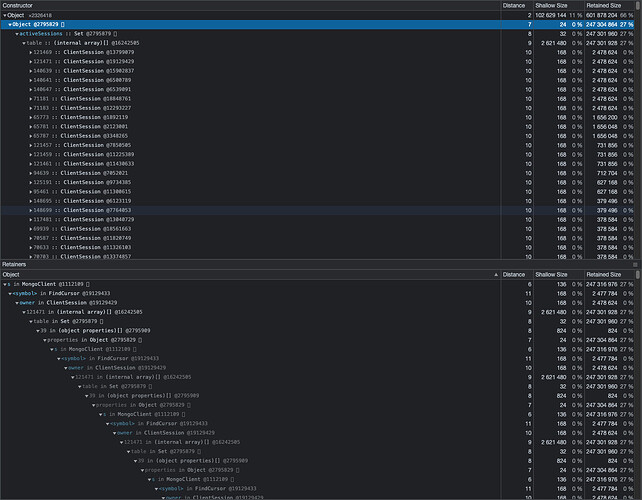 Here you can see the jump back from 100 to 10 mongo connection pools again, because we shipped a downgrade! - we had to roll back our update, as this big pretty much makes this impossible to use for us on production.

Did anyone run into similar problems? I think you guys really need to investigate this! (We also posted the same issue in the MongoDB Jira: https://jira.mongodb.org/browse/NODE-4833)
best, Patrick